Horkey & Mardle
Crafting a visual and online personality for a unique grazing table startup
Horkey & Mardle is an independent brand creating incredible grazing experiences for food lovers in Norfolk and afar. Based in King's Lynn,in the county of Norfolk, Horkey & Mardle sources the best of Norfolk produce - bringing them together to produce beautiful and rustic grazing experiences for its customers.
Established in 2018 by food lover Katie Anderson, Horkey & Mardle has successfully grown month on month, with bookings being taken for 2021. 
Brand Strategy
Branding
Illustration
Web Design
Print Design
Print Management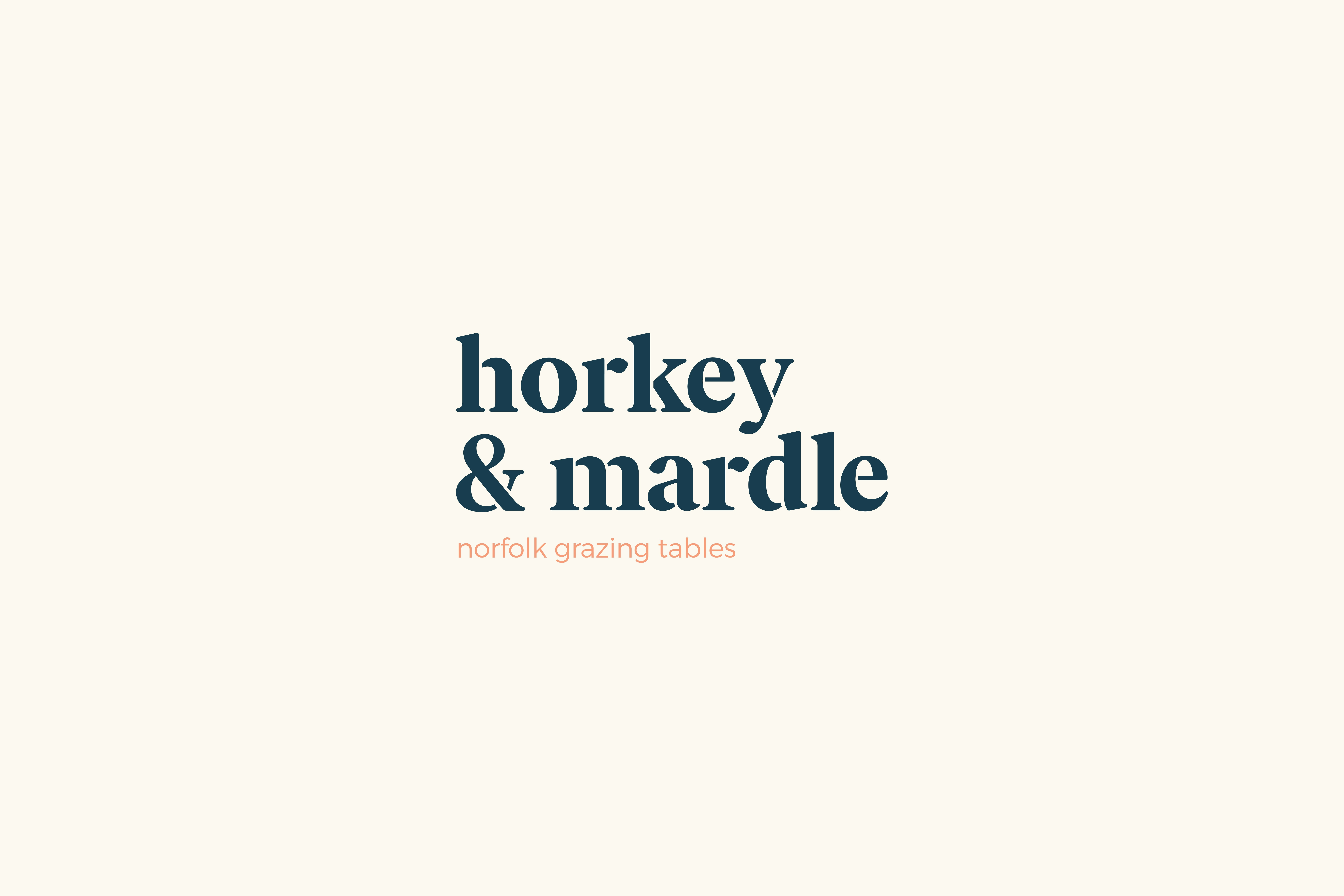 When we began working with Katie from day one of her venture, she approached us with a lot of passion, an idea and a vision for her business. It was our job to work with her to bring it to life. We started with a bit of brand strategy and we were keen to create something that had a strong link to Norfolk but without tying it to the county in case Katie ever moved, or wanted to expand into other parts of the country. We wanted to position the brand away from your average event caterer, to try and stand out in a visually crowded market.
Our first challenge was the name. It needed to evoke a story, something to make it individual, memorable and that embodied Katie's passion for Norfolk and its incredible produce. With some research and a lot of thinking from both sides, the Norfolk dialect was our answer. Katie came to us with a book of Norfolk dialect, and from this we choose a number of words that worked and we settled upon Horkey and Mardle.
Along with the logotype, which was inspired by old vegetable crates found on farms here in Norfolk, we created a bespoke geometric illustration style for Horkey & Mardle that would bring life, character and texture to the brand while helping them stand out within the market space.
Bringing horkey & mardle to the life online.
After completing the branding, it was time to bring the brand to life online. We worked with Katie to produce a brochure site that embodies her brand and shares a visual style with her grazing tables.
Horkey & Mardle customers can view the packages available, learn more about Katie and also keep up to date with her and the brand through her blog.
What Horkey & Mardle said about working with us
"Setting up a new business is stressful and can be hard work - but kith+kin made the process so much easier by providing me with an awesome brand and logo, which they somehow managed to unscramble from my sketches! We chatted via Skype to iron out little changes, their communication was excellent throughout and always very fast. I'd highly recommend kith+kin for modern, exciting projects."
Lynn Carpet Centre

A timeless yet vibrant rebrand for a Norfolk based flooring company

Lynn Carpet Centre